Twitter is rapidly shutting down its free API, including posting content, while it was one of the features it needed to maintain. Another promise from Elon Musk that is in a bad way, as we could have guessed during the presentation of the new paid API. The free plan is limited to 1,500 posts per month, which is woefully insufficient for most publishing services.
Twitter is finally ending its free API and introducing its new offering
In fact, these services are slowly announcing the end of sharing on Twitter, or at least the end of free sharing. Thus, IFTTT competitor Zapier announced to its users on April 19 that sharing on the Blue Bird social network would become chargeable from May 19. On this date, you will need to subscribe to a subscription billed from €28 excluding tax per month to continue using Twitter with a limit on the number of monthly publications. IFTTT has not made any announcement regarding this yet, but it is likely that it will be the same and the free offer will not be enough in the long run.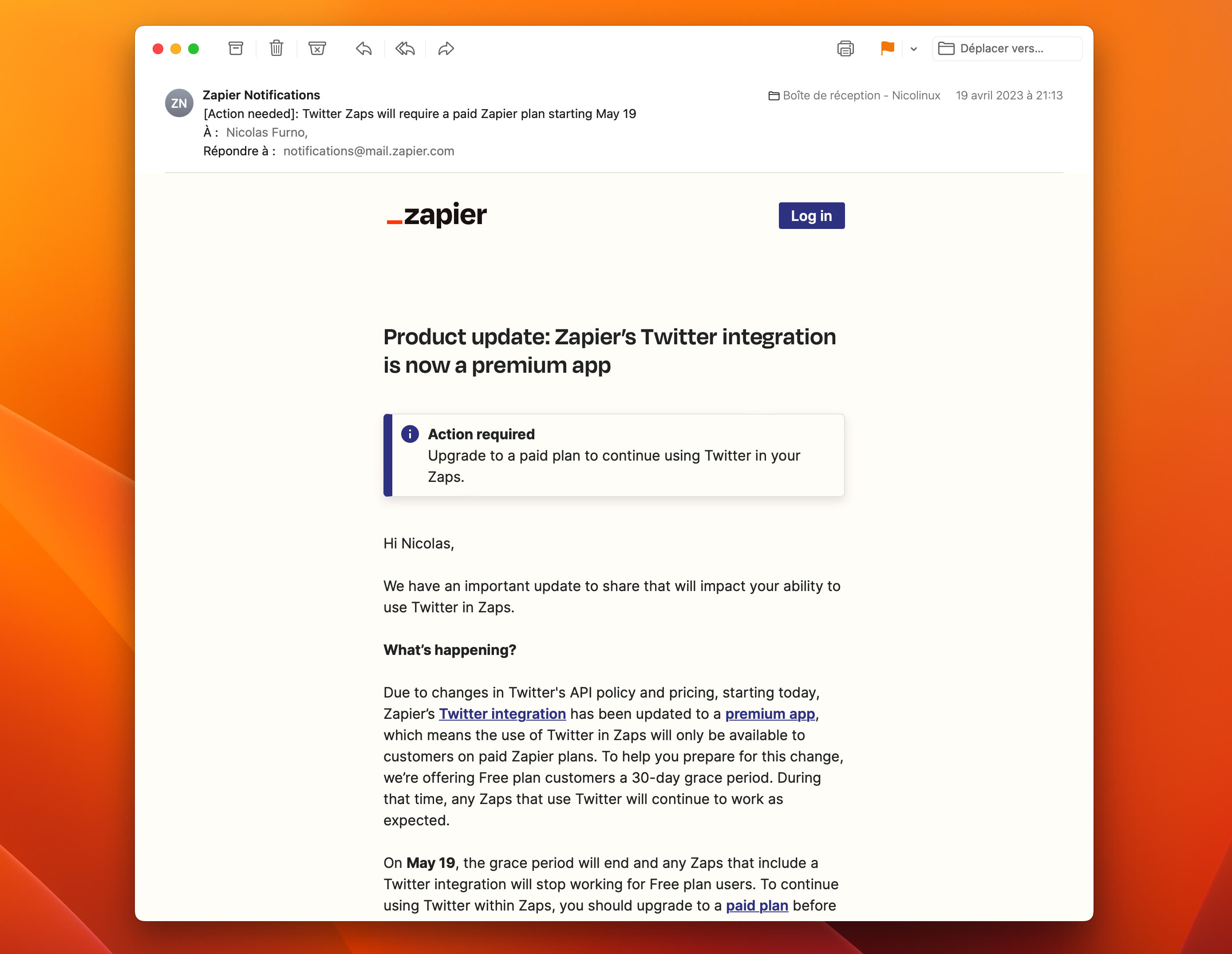 The latest victim of the new API is a heavyweight in the web world: Automattic has announced the end of automated sharing on Twitter via Jetpack, its module for WordPress blogs. It has been one of the most popular modules for the most popular website engine on the internet for years (all we know is that it has crossed 5 million installations). The cut is brutal for the millions of sites these automatically publish to Twitter, because it happened today, May 1st, 2023.
While Twitter has been closing itself off more and more to automatically published legitimate content, its moderation has been talked about again this weekend. Or rather, it lacks moderation, as a user published the entire film super mario bros Yesterday, Sunday 30 April, and his tweet containing the hacked content remained online for 10 hours. That's enough to attract 11 million reads according to figures provided by the site, and even if they're optimistic (a read is counted as soon as the message loads), there's no doubt that some clever people have made it in between times. have seen.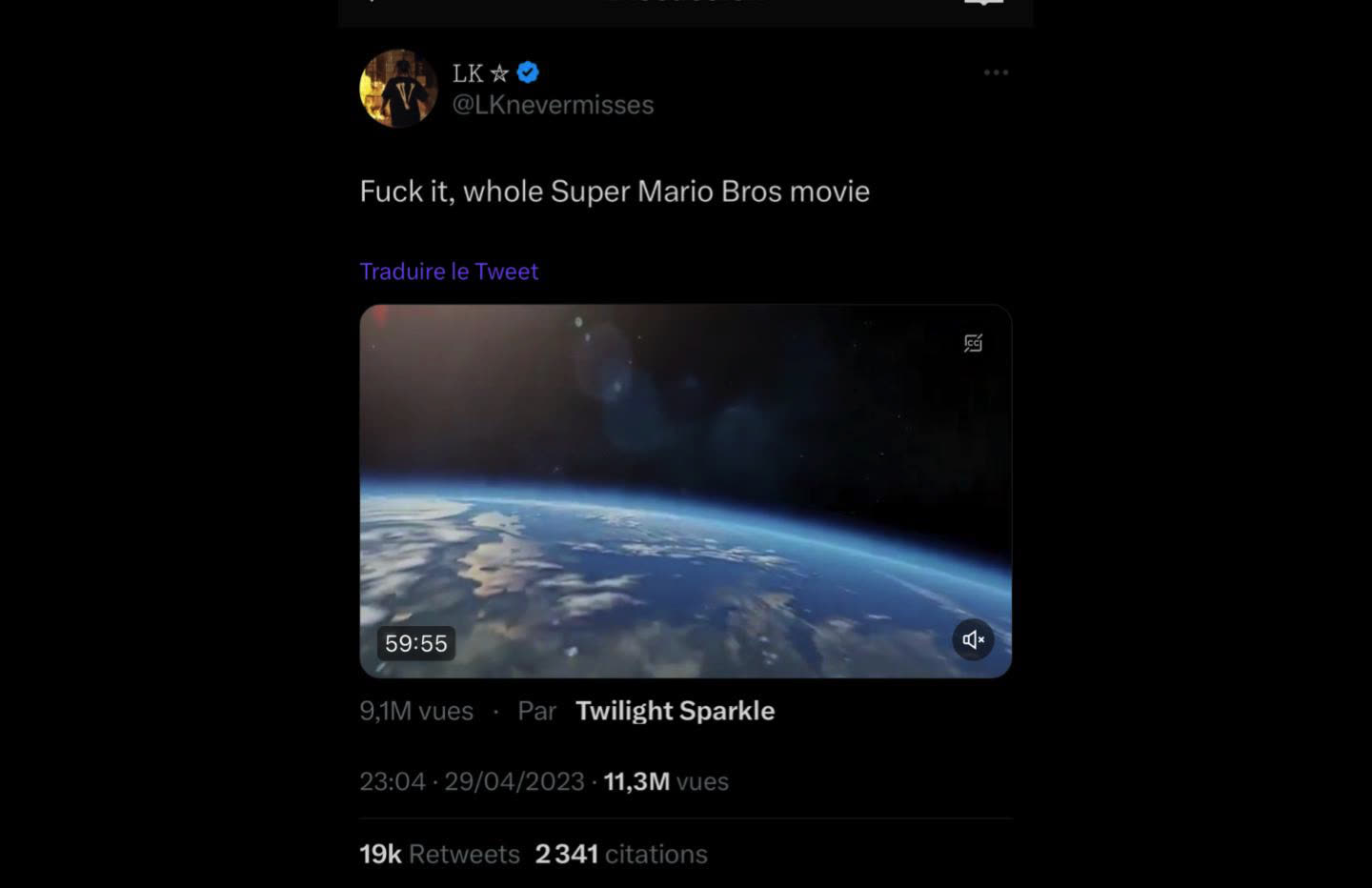 The social network doesn't seem to be in any rush to fix the situation, as evidenced by its response times, and apparently other bootleg movies currently circulating on Twitter. All the users streaming these movies are subscribed to the paid Twitter Blue plan, otherwise they would not have been able to stream such long videos, and they have not been banned so far, allowing them to start even after deleting the message. can do. At this rate, even Tesla's boss will be able to alienate Hollywood…
Meanwhile, Elon Musk has found an ally in Daniel Eck. The Spotify founder backed Twitter's complaint about App Store approval delays for subscriptions offered in the social network's iOS client, while adding to his repeated complaint about fees by Apple. This is actually the first time that Daniel Ek has complained about the App Store offered by Apple and he is hoping for help from his counterpart.
This is absurd… How would this scale with every creator on every platform on the internet? And what about if a platform thought the right fee was 0% or 10% instead of Apple's 30%? https://t.co/rolBNuXOvt

— Daniel Ek (@eldsjal) April 30, 2023